A Viral video has been circulating online of a Lady who slapped her boyfriend for declining her proposal.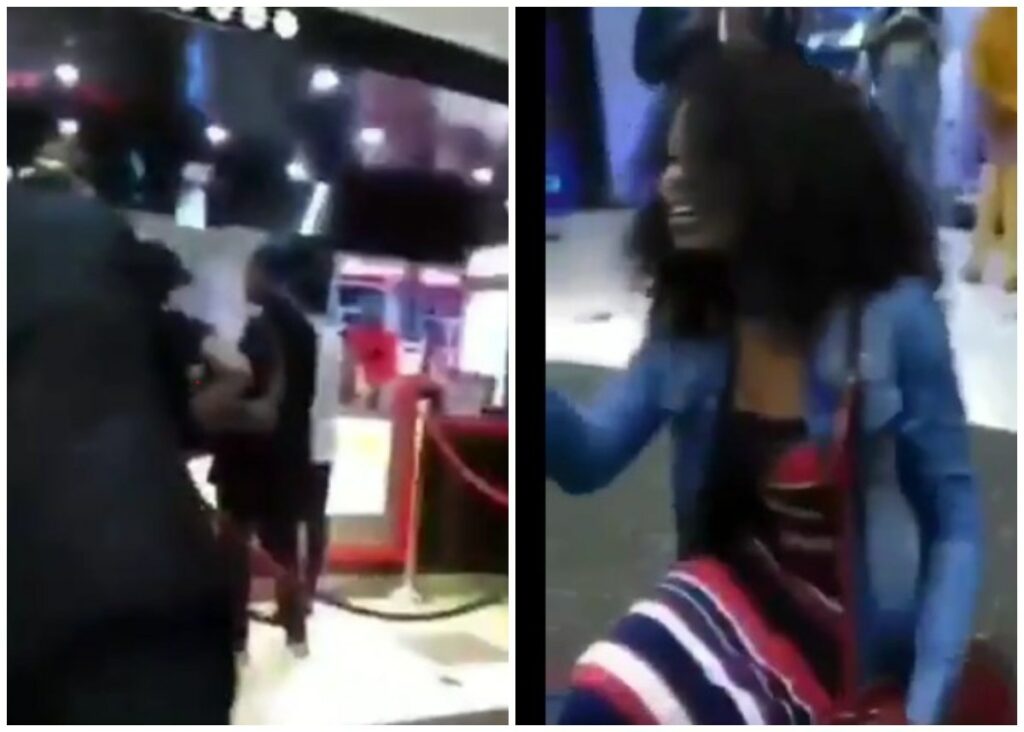 According to the lady in the video, she has been dating the boyfriend for over 6years and he's yet to propose to her so she took it upon herself to take the big step. But things turned bad as the guy refused to accept her ring which made her furious thereby resulting in her landing the boyfriend a dirty slap with her left hand.
The video was shared on Twitter by @Naijablogger, Watch Below
Lady Slaps boyfriend for refusing her proposal after dating her for 6 Years. | #Naijablogger. pic.twitter.com/gRYU7bRQ7r

— Naijablogger (@Naijablogger) August 13, 2019
SEE REACTIONS BELOW
"just say yes…" On top slap? ?

How did matters of confidence manage to escape the 4 walls of our home into the hexagonal mall?
Westernized?
??‍♀️
I just don't feel the public proposal vibe… ??‍♀️
In a freaking mall FCOL!
Take risks. Yes. But calculated risks ?

— Weirdmaskman NG ? (@WeirdmaskmanNG) August 13, 2019
How can you date someone's daughter for 6 years without proposing to her? Even if she was studying Architecture or Law she would have graduated LMAO. https://t.co/gcrPrCAhuF

— Dr. Dípò Awójídé (@OgbeniDipo) August 13, 2019
He did the right thing. She's rushing things. Just 6 years? Smh. Now he also knows she's an abuser as well. https://t.co/fSJX1PvyRv

— Leo Dasilva (@SirLeoBDasilva) August 13, 2019
"Just say yes"

"after being slapped?"

?

— King Of Data (@DangoteOfData) August 13, 2019
To slap him in public takes a lot (domestic violence??) I'm almost sure she has spoken about marriage with him in private though (6 years is a long time). She may have tried to manipulate the answer by a public proposal. Too bad

— The path less travelled… (@esiriumukoro) August 13, 2019
Desperation caused her to propose, she couldn't handle rejection, she became physically violent, he has just dodged a bullet. ??

— ? DaddyMo ? (@therealdaddymo1) August 13, 2019
I don't even know what to make of this.
If the dude in question was taken by surprise, saying yes to the lady who has taken this bold step does not automatically translate to marriage!
Just say yes, to save her the embarrassment, and later sort yourselves out! Ha!

— Dav (@daphinon) August 13, 2019
CLICK HERE to follow us on Instagram so as to get Story updates on published posts.
CLICK HERE To Follow Us on Twitter for Live Updates on Twitter
CLICK HERE to Follow Our Page on Facebook to get live updates on published post