Here are nine signs he's probably going to propose soon.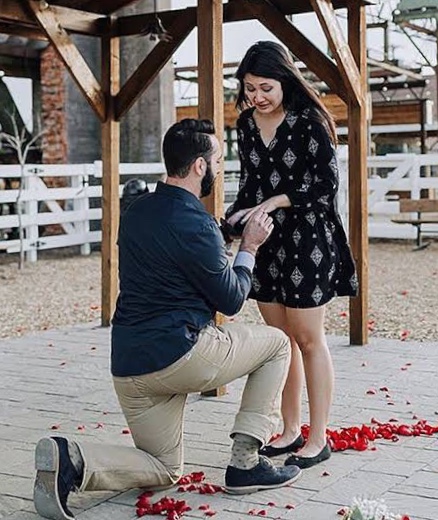 1. He doesn't dismiss your hints.
There's nothing worse than a woman haggling a man over an engagement ring when he has no intentions of popping the question. So if you start dropping hints about ring styles you love, and he looks at you with adoration and not, "Not this nonsense again,"he might be ready to buy you a sparkling gem of a ring.
2. He refers to you as "the wife."
If he calls you "The Wife," and not in an annoying or sarcastic way, he's putting vibes out into the world that he already sees you as his special lifelong love. A ring is the next natural step.
3. He plans his future with you in it.
If he's talking about his future and not referencing it as, "One day down the line" or"When the time comes," but instead is speaking about his life plans with you directly in line, he's ready to commit to you for the long haul. Don't be surprised if you find him on one knee, with a ring in one hand and yours in the other.
4. He's suddenly being secretive.
Is he being secretive, but not in an angry way? Simply taking steps to go somewhere or hunting online, yet refusing to let you look? Someone may be ring shopping.
5. All his friends are getting married.
If your guy is hanging with committed dudes, he wants a commitment as well.
6. He makes a point to bring you around more.
Are you suddenly BFFs with his family? Are the family invites to events and dinners pouring in? He's grooming them — and you. Letting everyone get a chance to really know you is a sure sign he wants you around forever.
7. He asks you about your future.
Suddenly, homeboy is talking to you about your future wants. We all know men can avoid deep conversation and commitment like the plague, but if he's reaching out to you to open the conversation, he's putting the feelers out to see if you're ready and willing to be with him forever.
8. He's working overtime.
Is he suddenly not available to cuddle and hang out so much because work is running him ragged? Does he seem a little stressed or tired? He may be working overtime to provide your hand and finger with the best ring this side of town.
9. He tells you straight-up.
If you're the eager beaver looking for some reassurance of his commitment to you and he's willingly sharing that he's in it to win it, then be patient. That ring will come.
CLICK HERE to follow us on Instagram so as to get Story updates on published posts.
CLICK HERE To Follow Us on Twitter for Live Updates on Twitter
CLICK HERE to Follow Our Page on Facebook to get live updates on published post