Most women develop stretch marks on their abdomen during pregnancy, however it is also common to get them on the breasts, thighs, hips, lower back and buttocks.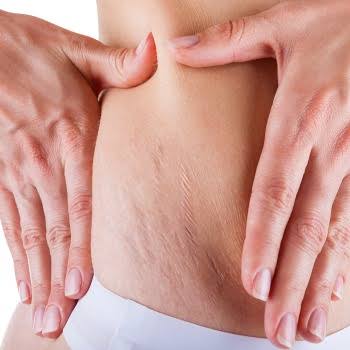 While they can appear anywhere on the body, they are most likely to appear in places where large amounts of fat are stored.
There are certain effective home remedies you can try to reduce the appearance of stretch marks after delivery.
1. Shea Butter Or Cocoa Butter
Shea or cocoa butter can be used just like oil treatment. They are also the primary ingredients present in most of the body lotions.
Take some shea or cocoa butter and apply on the stretch marks regularly. Rinse off the area after some time.
This remedy improves the skin elasticity, prevents dryness and reduces the stretch marks. Cocoa butter is an excellent moisturizer and helps nourish your skin.
2. Oil Treatment
Massaging the affected areas with oils make your skin smooth and help reduce the stretch marks. Some of the popularly used oils include:
Olive Oil: Olive oil moisturizes and exfoliates your skin. It also improves the blood circulation and removes stretch marks to a great extent.
Take some oil in your palms and gently massage the area. Let it remain for 30 minutes so that the vitamins A, D and E in the oil are absorbed into the skin. Take a bath after the massage. Though it is a time-taking process, it gives you results when you follow it regularly. Or you can also prepare a mixture of olive oil, water and vinegar, and apply in the nights.
Castor Oil: Apply castor oil on the stretch marks and massage the area gently in circular motion for about five to ten minutes.Use a plastic bag to cover the area, roll a hot water bottle on it for about 30 to 40 minutes. The heat opens the pores and the oil gets absorbed into the pores.Clean the area and repeat it every day for at least a month to see good results.
3. Egg White
Egg white is rich in protein, which helps rejuvenate the skin and makes it look fresh.
Beat two egg whites using a fork.Clean the affected area with water and apply a thick layer of egg white using a makeup brush.Let it dry and then rinse off using cold water.Apply some olive oil to keep the skin supple and moisturized.Repeat it every day for at least two weeks. It helps improve your skin tone, and the marks fade away slowly.
4. Aloe Vera
Aloe vera promotes healing and soothes your skin. Use fresh gel rather than the one available in the market.
Rub it directly over the skin, leave for 15 minutes and wash it off using lukewarm water. Apply on the affected areas regularly.
You can also prepare a mixture of one-fourth cup of aloe vera gel with oil from five vitamin A and ten vitamin E capsules. Rub it over the skin until it is completely absorbed. Apply it twice a day.
5. Honey
The antiseptic property of honey works in reducing stretch marks.
Take a small cloth and apply honey on it.Place the cloth on the affected area and let it remain until it turns dry. Rinse off using warm water. Or you can prepare honey scrub by mixing it with salt and glycerin. Apply it on the stretch marks, leave until it dries and rinse off using water.
CLICK HERE to follow us on Instagram so as to get Story updates on published posts.
CLICK HERE To Follow Us on Twitter for Live Updates on Twitter
CLICK HERE to Follow Our Page on Facebook to get live updates on published post